How Much Do Custom Cakes Cost?
Hi. I'm Lesley. I am a baker specializing in elegant custom cakes and dessert bars, so I do not operate a traditional retail store. This means I only make custom cakes and desserts at my bakery and only when a client places an order.
That's a good thing. Not having a retail counter, staffing, or inventory allows me to focus my efforts on creating amazing cakes and desserts that align perfectly with each client's needs.
Here are a few of our past cakes and what the pricing was for that particular customer. If these examples align with your budget and you've been to our cake tasting, please click Start Your Order and we will get you a quote.
Curbside Cake Tastings
October 21, 2o23 9a – noon
November 11, 2023 9a – noon
December 9, 2023 9a – noon
Please pull up to the curb at:
1235 S. Gilbert Rd. #27 Mesa, AZ 85204


we'll run a to-go container of samples out to your car!
Wedding Cakes
Details:
Four tiered wedding cake with a buttercream design. The customer supplied the cake topper and flowers. They received four different cake flavors and four different fillings one for each tier. The cake was delivered to Mesa.
Feeds: Up to 150 guests
Price: This wedding cake was $1012.50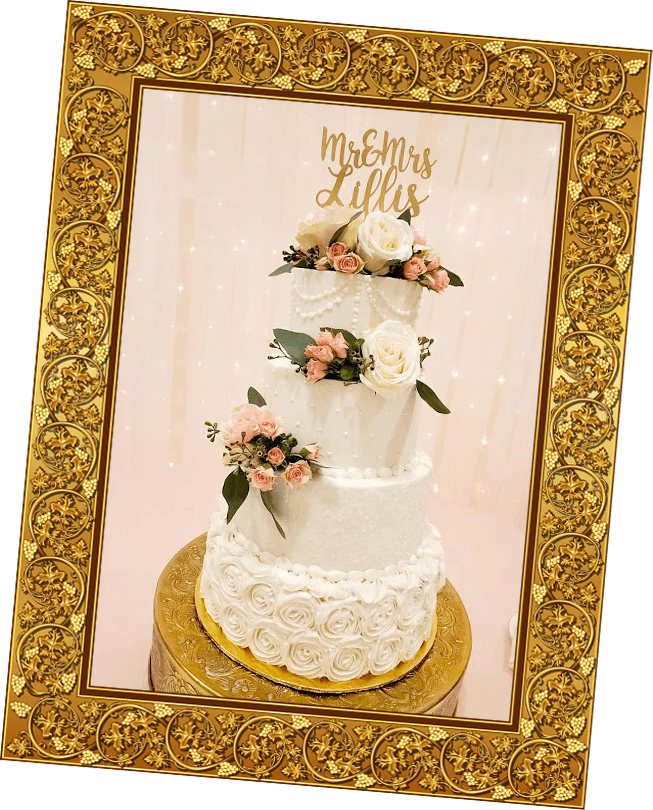 Cupcakes
Basic, minimum of 12
Filled or custom, minimum of 12
Mini cupcakes, minimum of 36
Cookies
Basic $18/dozen, one dozen per flavor, minimum of 24
Chocolate chip, sugar, peanut butter, oatmeal raisin, oatmeal chocolate chip, snickerdoodle
Mini brownies $1.75 each, minimum of 35, topped with Salted Caramel Buttercream or Fudge
Cake pops $3.50 each, minimum of 24
Chocolate dipped pretzels $3.50 each, minimum of 24
Chocolate drizzled rice krispy treats $3.50 each, minimum of 24
Chocolate dipped strawberries $4.50 each, minimum of 24
Dessert Bar
$5.95 per person
Averages 3 pieces/person
Minimum of 24

Choices:

Mini cupcakes
Cake pops
Brownies
Cookies
Chocolate covered pretzels
Chocolate drizzled rice krispy treats
Gluten Free Options
Cupcakes
Basic, minimum of 12
Filled or custom, minimum of 12
Mini cupcakes, minimum of 36
Desserts
Mini brownies $2 each, minimum of 35, topped with Salted Caramel Buttercream or Fudge
Cake pops $4 each, minimum of 24
Cake Flavors
French Vanilla*
Chocolate Fudge*
Almond*
Banana (walnuts & pecans)
Carrot
Cherry Chip
Coconut*
Funfetti
Lemon*
Margarita Lime*
Mint & Chip*
Orange Dreamsicle*
Red Velvet*
Snickerdoodle*
Spice
Strawberry
Cake Fillings
Buttercream*
Custard
Cream Cheese* (filling only)
Fudge*
Custard with Bananas
Custard with Blueberries
Custard with Strawberries
Custard with Raspberries
Strawberry Jelly
Raspberry Jelly
Spiced Apples
Lemon
Cherry
Peaches & Cream
Crushed Pineapple*
Toasted Coconut & Buttercream*
Cookies & Cream Buttercream
Mint Cookies & Cream Buttercream
Salted Caramel Buttercream*
Buttercream with Cinnamon Sugar*
Cream Cheese Buttercream with Cinnamon Sugar*
Peanut Butter*
German (Coconut & Pecan)*
Cannoli (Contains Almond Extract and Chocolate Chips)*
Shapes
Round
Square
Hexagon
Heart
Sizes
6, 8, 9, 10, 12"
1/4 Sheet
1/2 Sheet
*Available in Gluten Free